750 17th Street
Constructed in 1989, 750 17th Street is an 8-story, high-end residential development located in the heart of Washington, D.C. It offers luxury suites, stunning common area facilities and breathtaking views of the White House & Monument. Dawson Doors proudly welcome building residents each day through their lobby doors.
Lobby renovation with exterior and interior Balanced doors, Auto operated at one leaf of each entrance. The Interior lobby has one pair and 2 singles with standard 3 lite transom and 2 sidelites.  The exterior entrance has one pair and 2 singles with standard 3 lite transom. Additional Dawson arched (shaped) 3 lite stainless steel transom above, separated by a canopy supplied by others.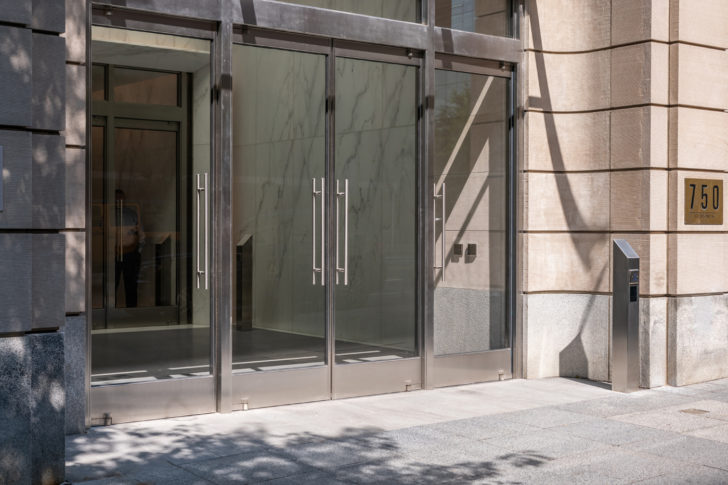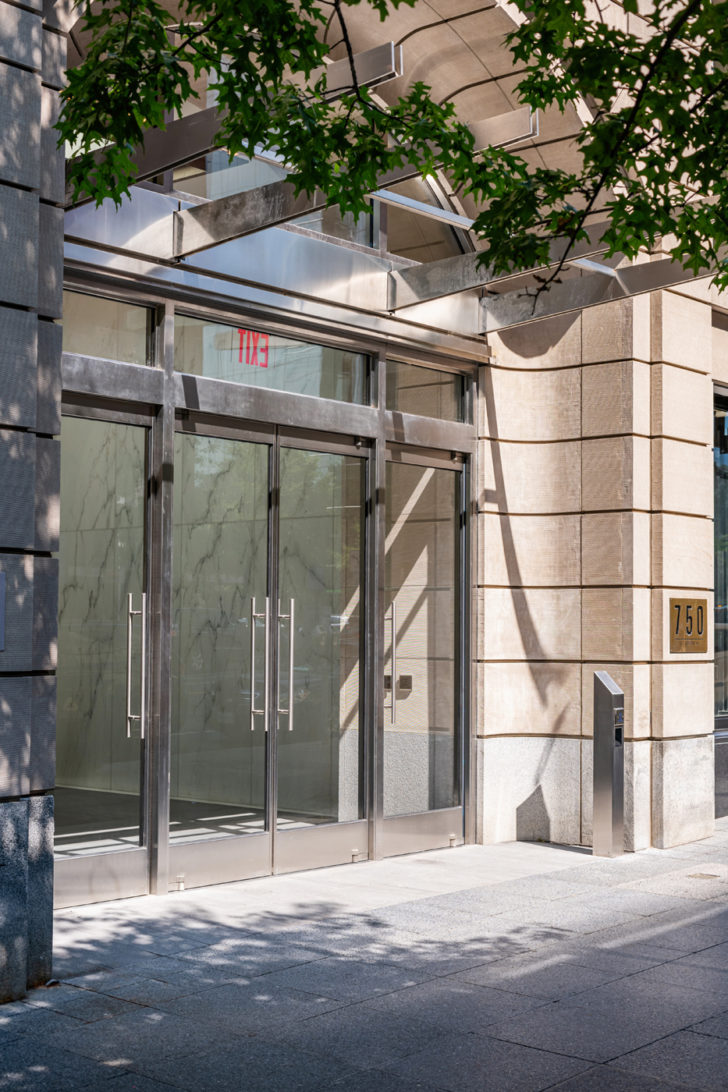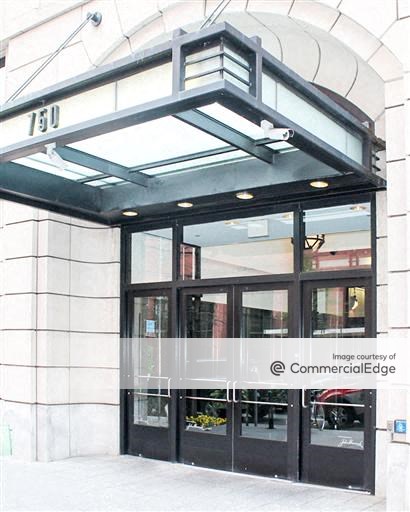 When constructing the lobby doors for 750 17th Street, Dawson was asked to provide a clean sophisticated appearance, while also providing a durable and strong product needed to handle the daily use. With the needs of the space in mind, Dawson provided its Balanced Ultra-narrow stile doors. The choice matched the luxury design and helped ensure that Dawson's doors could withstand traffic level in and out of the building.
For the material, Dawson provided 13 (.090″) Gauge Type 316 Stainless Steel #6 Satin finish. The choice of material and finish gave the doors a sleek and lustrous look that matched the refined, elegant ambiance of the rest of the building. For the framing, Dawson used custom seamless Balanced frames with standard 3 lite rectangular transoms at both the exterior and vestibule openings and provided an additional arched (shaped) 3 lite transoms at the exterior frame located above the canopy which was provided by others.
Doors:

Balanced Ultra-narrow stile doors, factory glazed. (2 Auto-operated)

Sidelites:

Narrow sidelites at the interior vestibule.

Frames

:

Custom seamless Balanced frames with standard 3 lite rectangular transoms at exterior and vestibule and arched (shaped) 3 lite transoms at the exterior frame.

Material:

13 (.090″) Gauge Type 316 Stainless Steel

Finish:

#6 Satin finish

Architect:

WDG Architecture

Location: Washington, DC, United States
Capitol Crossing

Washington Harbour Plaza

U.S. Capitol Visitor Center

National Museum of American History

National Museum of African American History

1000 Connecticut Avenue

Museum of the American Indian

Museum of the Bible

One Vanderbilt

St. George Theatre

Weaver Materiel / NACO Trucking