The Dawson Balanced Door
The Dawson balanced door serves as its signature, and most long-lasting, achievement.
When it comes to balanced doors, Dawson is the global manufacturer that vendors prefer above all others. Dawson incorporates the most innovative technology with exceptional attention to detail, to ensure superior quality.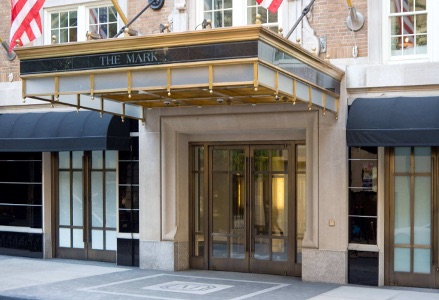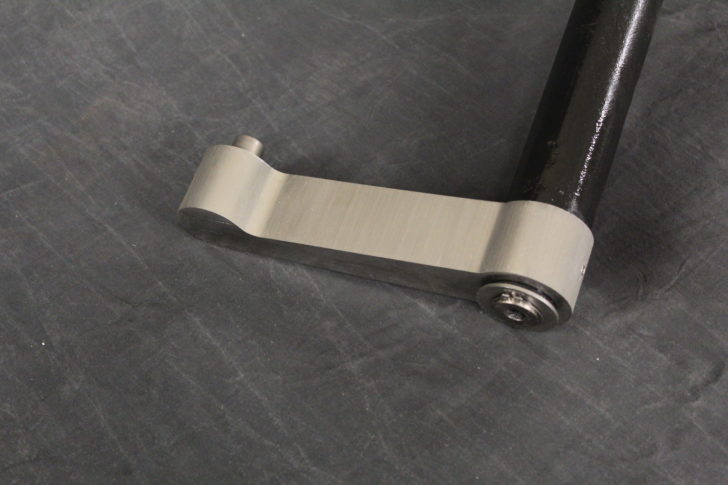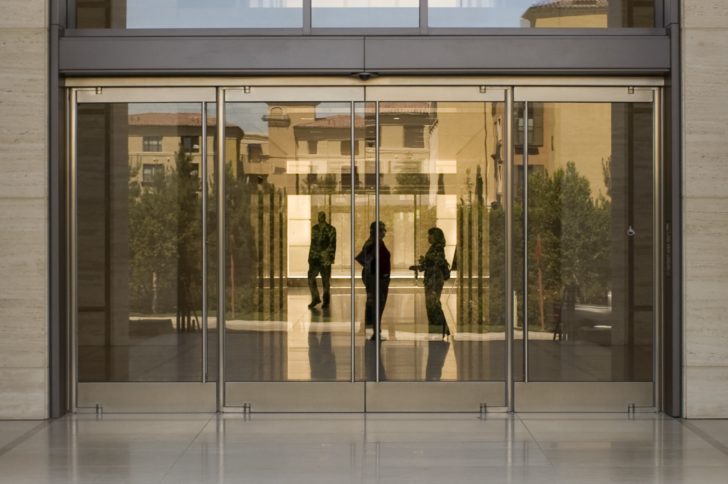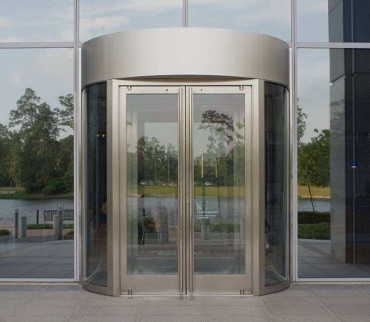 Dawson Balanced Doors comply with the strictest building codes and ADA guidelines.
Balanced doors are available in both stainless steel and bronze, and in our Custom and Designer series, as well as an ultra-narrow stile, all glass, and extruded aluminum  (anodized, painted, or clad).
Our top and bottom pivot arms are manufactured from either stainless steel or bronze castings to match the door material.
One of the features which distinguishes our balanced hardware as innovative is that the operating mechanism is located in the head instead of the floor.
Installation is simple: adjustments are easy; no "groundbreaking" into the floor is required!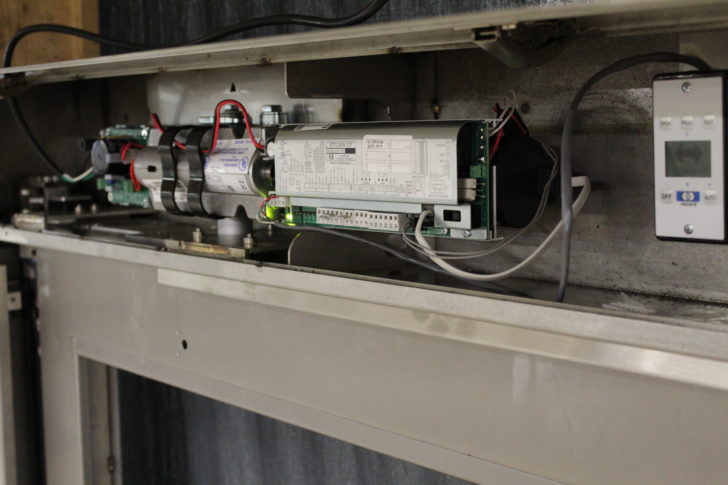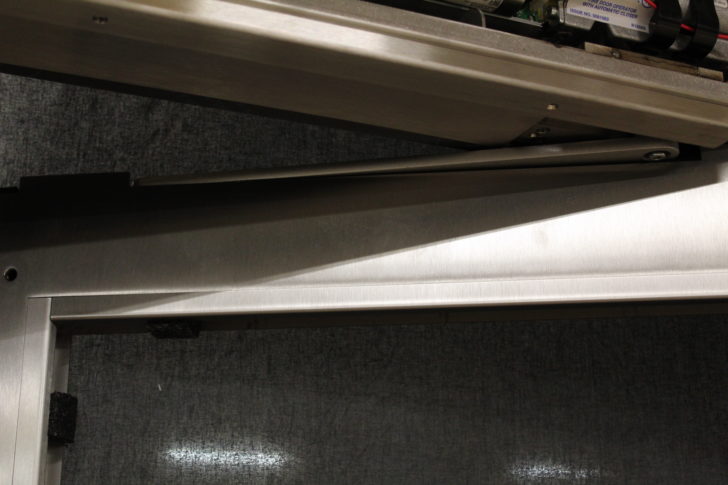 Modern auto-operated balanced hardware
Dawson is proud to offer an updated version of our automatic operated balanced door system.
For years, it was industry standard to integrate an automatic operator motor and controller into the door header which required a bulky 7 1⁄2" high header.
A drive arm with a nylon wheel mounted to the end of the arm was used to simply push the door to the open position via a ramp mounted inside the web of the top rail.
The drive arm was not attached to the door so this meant the door could be used manually without ever cycling the operator, thus reducing unwanted wear and tear to the operator.
This was a practical solution for many years but at the same time presented some difficult challenges.
Balanced doors are known for their ease of operation regardless of the size and weight of the door leaf. In order to meet strict building codes and ANSI standards, these low-energy operators cannot exceed 15 pounds of opening force during either the opening or closing cycle.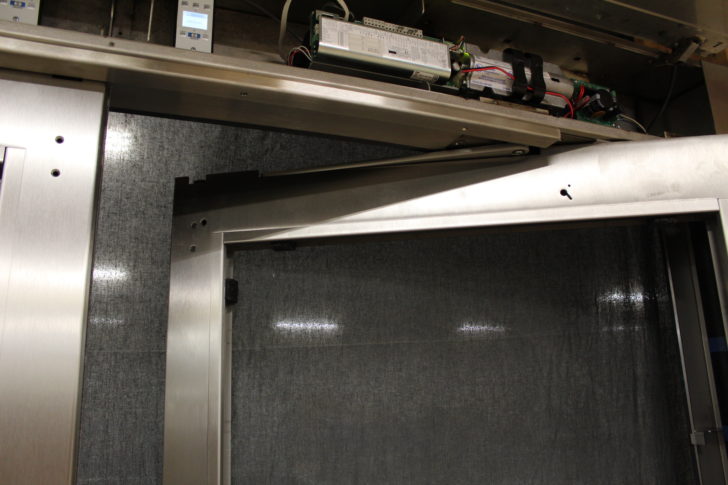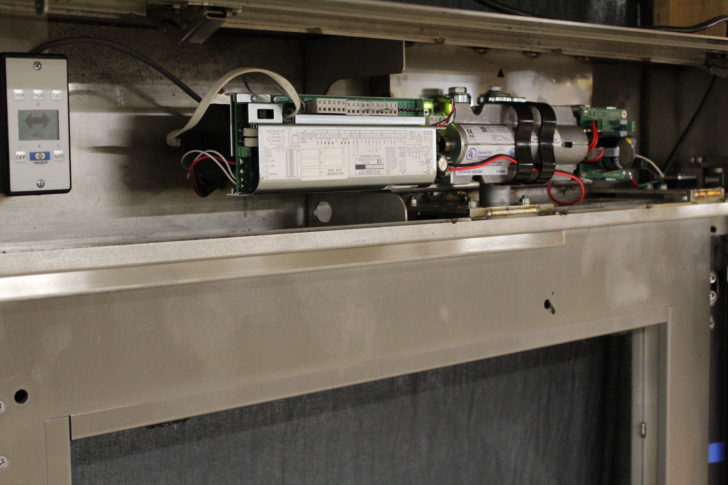 In the event that this force exceeds the 15 pounds, the operator will immediately stop its cycle and either return to the closed or open position. This creates a problem when moderate to light wind gusts apply additional forces against the door during the opening cycle.
A balanced door is designed to have approximately 8 pounds of resistance, and since the operator is not attached to the door, 8 pounds of resistance is always present. During automatic operation, the door actuator is depressed which initiates an opening cycle. Since there is already 8 pounds of resistance from the balanced hardware, that only leaves 7 pounds of additional force before the operator senses an obstruction (which will immediately end the opening or closing cycle). A 10 mph wind speed can create enough additional force on the door to prevent the operator from properly operating.
New and Improved
Dawson's newly designed system utilizes the Record 8100 series, auto operator. This operator fits nicely in a 6" high x 6" deep header and offers several enhanced features compared to the older, outdated system (still used by our leading competitor).
Our engineers designed this system so that the closer is eliminated from the balanced hardware which creates a truly free swinging door with no resistance.
Next, we designed a smaller robust header mechanism so that the operator's drive arm could be connected directly to the door. There is a very small cutout on the interior side of the door for the required drive arm clearance, but this is totally concealed when the door is in the closed position.
The Record 8100 series operator features include an internal clutch/brake system that maintains door position at the fully-open and/or fully-closed position. Additionally, a power assist mode is available which provides additional opening force thus greatly reducing the amount of force required to open the door in manual mode (as little as 2 pounds of opening force can be achieved).
Balanced Door - Installation Instructions
The Highest Standard in the Industry
Lower Maintenance Cost

Dawson manufactures stainless steel castings to match stainless steel doors, and bronze castings to match bronze doors. There is no dissimilar metal reaction.

Competitors use bronze cast arms on stainless doors, which will oxidize over time and require costly maintenance.

Superior Materials

Dawson uses self-aligning needle bearings in all door pivots.

Competitors use plastic sleeve bearings.

Stronger Hinges

Dawson uses a 1.9" diameter steel tube welded to the arms.

Competitors use a 1.75" diameter steel tube hinge shaft.

Stronger Guide Box with Better Integration

Dawson makes a one-piece guide box machined from stainless steel, which is 50 percent stronger, more than twice as hard, and will not discolor due to corrosion.

The Dawson guide box has a larger cross-sectional area for strength and incorporates a trim plate to match the frame material.

Easier Installation & Adjustment

Dawson's product integrates all the controls (spring tension, swing speed, and latch speed) in the header. This location not only offers protection from dirt and corrosion but allows for ease of installation, as well as easy access for adjustments in the guide channel without having to remove the door from the opening.

Competitors' hardware is difficult to adjust because the gearbox is located below the threshold grade. This means the floor must be cut (or an appropriate space "boxed out") to accommodate the hardware. This location exposes the mechanism to dirt, water, salt, and other contaminants, which can cause corrosion and make adjustment difficult.
Aluminum Series

Offered in clad and non-clad options, aluminum is finished to achieve your desired look.

All Glass Series

Full-width rails frame tempered glass for a flawless, unobstructed sightline.

Custom Series

Laser cut from one sheet of metal to create a seamless door face.

Designer Series

The finest fit for historical replications, renovations, and restorations.

Ultra Narrow Stile Series

Tempered glass and narrow vertical stiles for a sleek finish.

Retail Series

Laser cut from single sheets and assembled with a 'ladder type' structural internal framework.

Standard Series

Seamlessly built doors with glass stops at the interior and exterior.

Rugged Series

Rugged Series doors are designed and built for the most demanding applications and offer the longest warranty.