National Museum of African American History
Since opening in September of 2016, the National Museum of African American History and Culture (of the Smithsonian Institution), has been averaging over two million visitors entering its doors each year. Dawson was commissioned to bring its craftsmanship to what would become a high-traffic, prize-winning construction. An Ultra Narrow Stile Balanced door would be the Dawson custom solution for crafting a door that is both beautiful in design, and one with a high quality, resilient build. The result was the door and frame construction of the building's North entry, South East and South West vestibules.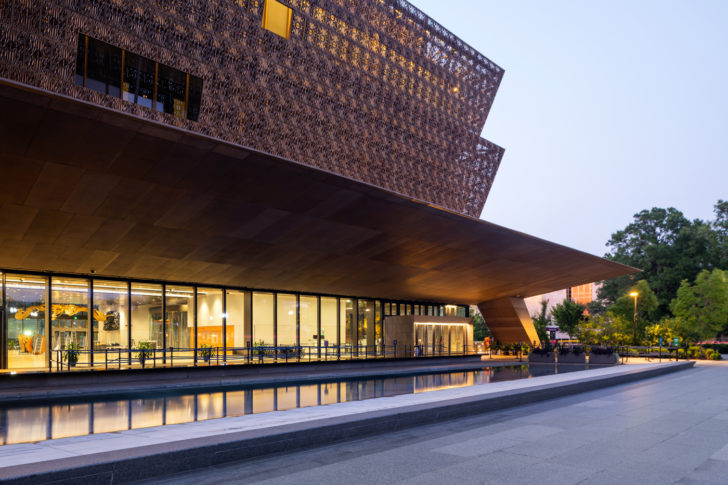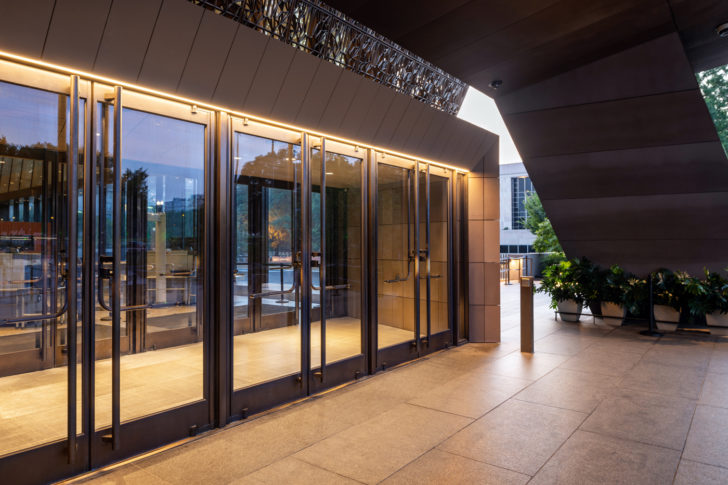 To create an impactful first impression on the NMAAHC, Dawson developed and constructed an Ultra Narrow Stile entrance, distinguished by a very narrow vertical sightline, creating a sophisticated glass door for the museum. 
When dealing with new construction in which high-traffic is expected, the most resilient of materials are the expectation, and Dawson's expert metal work would deliver. Dawson fabricated using a corrosion-resistant .090" thick #280 alloy Muntz metal as the main material, a form of alpha-beta brass with an approximate composition of 60 percent copper, 40 percent zinc, and a trace of iron.
To finish, the doors were factory-glazed with an exposed hinge tube and a #4 satin grained applied finish.
Using the Dawson solid modeling package, the finished entrances were able to meet the strict build tolerances, building codes and ADA guidelines, all the while meeting high customer expectations.
The Dawson team is proud to have collaborated with another world-class architectural masterpiece that is the NMAAHC. The building was the recipient of a 2019 Institute Honor Awards for Architecture.
Doors: Balanced Ultra Narrow Stile doors, factory glazed
Frames: 3" x 6" Balanced Frame Header with clad exposed hinge tubes
Material: .090" thick #280 alloy Muntz metal w/ #4 satin grained finish 
Architect: The Freelon Group, Adjaye Associates, Davis Brody Bond, & SmithGroup
Location: National Mall, Washington, DC, United States
Washington Harbour Plaza

Capitol Crossing

National Museum of American History

U.S. Capitol Visitor Center

1000 Connecticut Avenue

750 17th Street

Museum of the American Indian

Museum of the Bible

One Vanderbilt

St. George Theatre

Weaver Materiel / NACO Trucking