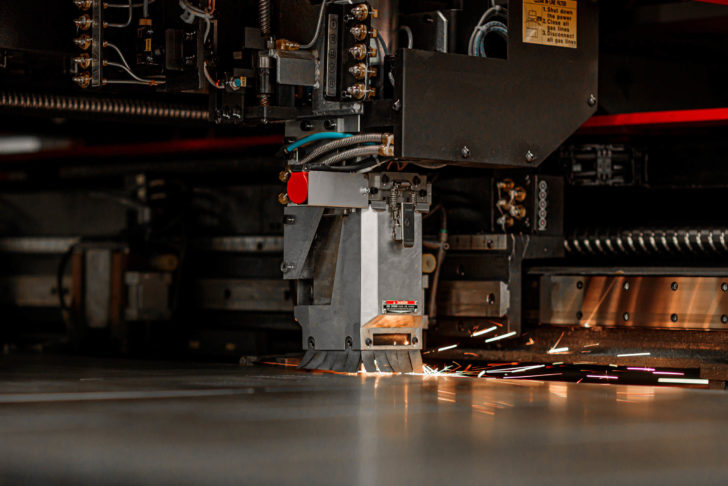 Laser Cutting
Dawson's investments span to the latest laser technologies. Our in-house, high-speed laser tools, have the versatility to achieve the best solutions for your short-to-long running projects. Our AMADA ENSIS 3015 Aj Fiber Laser, capable of cutting thin materials up to four times faster than conventional CO2 lasers, and producing high-quality parts on materials up to 0.875" thick.
Dawson has full sheet stock cutting capabilities to manufacture your short to long-running project. We understand that no two customer's needs are exactly alike and a dedicated Dawson engineer will collaborate with our team and the customer to recommend the best solution for manufacturing your product.
Amada ENSIS 3015 AJ Fiber Laser with Automated Load/Unload (Ensis)
Whether it is expediting work to the shop or running "lights out", the Ensis is extremely versatile. This high speed programmable fiber laser can cut thin materials up to 4 times faster than conventional CO2 lasers and produce high-quality parts on materials up to .875" thick. Cost-saving features include:

• The MPL Automated Load/Unload System that can hold up to 2000 lbs. of sheet stock.

• A multi-axis helical rack and pinion drive system for higher acceleration and rapid traversing.

• An LCD color touchscreen which allows for ease of operation by all users.

• A network connected control for fast and easy transfer of programs.
AMADA LC2012 2500W CO2 Laser-Turret Press Combo
This state of the art Punch and Laser Combination System is another example of Dawson's ongoing commitment to improved efficiency and utilization of up-to-date technology. The C1 gives Dawson the ability to laser cut and turret punch on the same machine, reducing costs by eliminating the need for secondary manufacturing operations.
The C1 delivers an excellent cutting quality with a laser output of 2500 Watts. In addition to laser cutting, with Dawson's extensive tool library the C1 is capable of a multitude of 3D punching and machining applications (operations, features?) such as:

• Precision tapped extrusions and holes in English and Metric threads

• Forming of small features (such as bent flanges)
Other Services
CNC Turret Manufacturing

Complex sheet metal component shapes are achieved through precise, programmed machinery.

Brake Forming

Our equipment utilizes a superior and more efficient air bending technique for seamless pieces.

Hardware Insertion

A full range of mechanical fastening options are available to achieve your project's requirements.