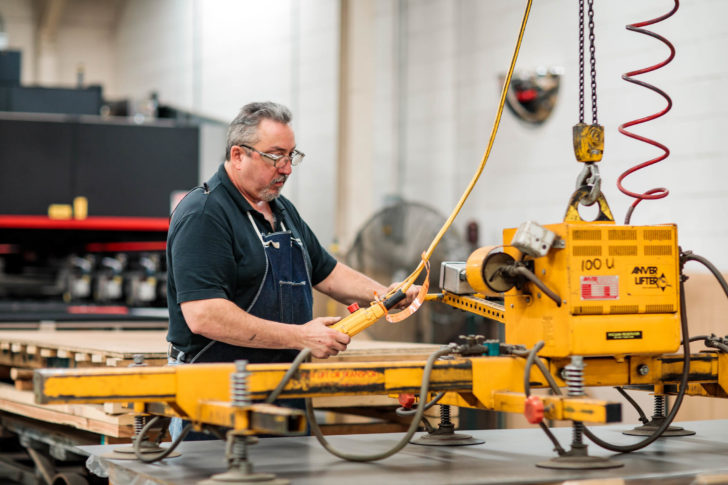 CNC Turret Manufacturing
Dawson's Amada LC2012 is a state of the art Punch and Laser Combination System and is another example of Dawson's ongoing commitment to improved efficiency and utilization of up-to-date technology. The C1 gives Dawson the ability to laser cut and turret punch on the same machine, reducing costs by eliminating the need for secondary manufacturing operations.
AMADA LC2012 2000W CO2 LASER-TURRET PRESS COMBO
The C1 delivers an excellent cutting quality with a laser output of 2500 Watts. In addition to laser cutting, with Dawson's extensive tool library the C1 is capable of a multitude of 3D punching and machining applications (operations, features?) such as:

• Precision tapped extrusions and holes in English and Metric threads

• Forming of small features (such as bent flanges)
Other Services
Brake Forming

Our equipment utilizes a superior and more efficient air bending technique for seamless pieces.

Hardware Insertion

A full range of mechanical fastening options are available to achieve your project's requirements.

Welding

One of our many welding fabrication techniques are applied to fuse your creation together.

Cellular Manufacturing

Dawson operates leanly with work stations and equipment arranged to accommodate a one piece flow, for efficient manufacturing and quality assurance.

Finishing

A variety of decorative and non-decorative finishes are offered to customize Dawson products.

Laser Cutting

Dawson's facilities house multiple state-of-the-art lasers, with full sheet stock cutting capabilities.

Machining

Our in-house, high-performance machine tool, meets the precise requirements needed to produce the high quality parts you demand.

Quality & Inspection

Reviews, inspections, and tests are regularly conducted at appropriate stages to verify that the requirements have been met.