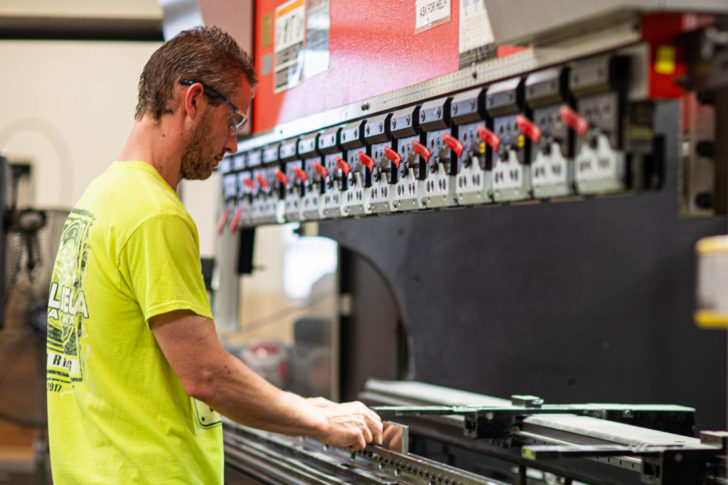 Brake Forming
Dawson Metal Company, Inc.'s variety of press brakes can form parts up to 144" long and .5" thick and have an operating capacity of up to 400 tons.
Our precision Amada HD 1703 NT and HG 1303 press brakes process parts quickly and efficiently with a high degree of repeatability.
Downtime is reduced with features such as offline programming, S-Grip punch holders, quick-change dies, and a 5-axis back gauge for simplified setups.
Cycle times are shorter due to the fast approach, bending, and return speeds of the high-efficiency, bi-directional hydraulic pumps.
Dr. ABE Bend software automatically selects tools, layouts, and bend sequences while 3D simulation on the AMNC-PC controller results in fewer errors.
These two machines utilize air bending, the most common type of bending. The workpiece comes in contact with the sides of the die and the punch tip, but not the bottom of the die. The sheet thickness and material properties of the workpiece determine the angle.
This method has several advantages over bottom bending and coining. It requires less tonnage, which in turn means increased tool longevity. As the inside radius is determined by the die width, nonspecific tooling can be used. There are also fewer die marks on the workpiece. Air bending is also faster than bottoming or coining.
Bottoming and coining are also available. Bottom bending is done exclusively on all Architectural products and as an option for industrial products that require tighter bend radii.
Capabilities
Precision Accuracy

Parts are processed quickly and efficiently through our press brakes with a high degree of repeatability

Short Cycle Times

Fast approach is achieved through quick bending and return speeds of the bi-directional hydraulic pumps

Minimal Downtime

Through offline programming, S-Grip punch holders, quick-change dies and a 5-axis back gauge for simplified set-ups
Other Services
Hardware Insertion

A full range of mechanical fastening options are available to achieve your project's requirements.

Welding

One of our many welding fabrication techniques are applied to fuse your creation together.

Finishing

A variety of decorative and non-decorative finishes are offered to customize Dawson products.

Laser Cutting

Dawson's facilities house multiple state-of-the-art lasers, with full sheet stock cutting capabilities.

Quality & Inspection

Reviews, inspections, and tests are regularly conducted at appropriate stages to verify that the requirements have been met.

Machining

Our in-house, high-performance machine tool, meets the precise requirements needed to produce the high quality parts you demand.

CNC Turret Manufacturing

Complex sheet metal component shapes are achieved through precise, programmed machinery.

Cellular Manufacturing

Dawson operates leanly with work stations and equipment arranged to accommodate a one piece flow, for efficient manufacturing and quality assurance.