Propulsion Enclosure
After evaluating several premier fabricators, Dawson was chosen to manufacture custom electrical enclosures that house propulsion equipment used in light rail vehicles (LRVs) that transport passengers. Dawson was successful in meeting the established design, budget, and volume that the project required.
Dawson manufactures, paints, and assembles these units.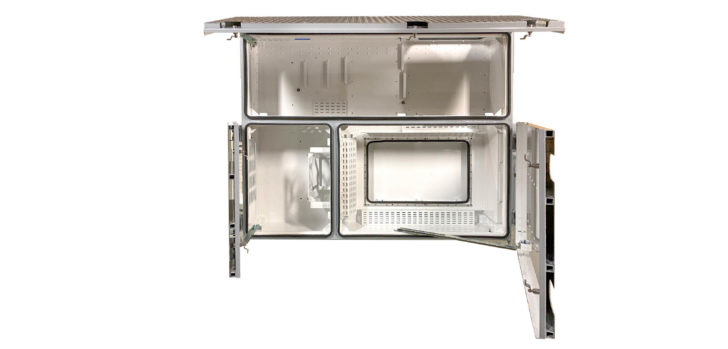 With stringent requirements in hand, Dawson was able to secure a contract with its customer to manufacture, assemble, and paint 52 large enclosures and 26 smaller enclosures.   These enclosures house propulsion systems that power light rail vehicles such as streetcars and trams.
To construct the enclosures, materials are laser/turret punched and brake-formed before heading to be machined and welded.  The formed pieces are then primed with a PPG Powercron cationic epoxy electrocoat and finished with a Tiger Drylac Series 49 Polyester TGIC weather-resistant powder topcoat.  The pieces are then assembled exclusively by rivets – using over 3,000 per unit.
Finishes:
PPG Powercron cationic epoxy electrocoat (primer)
Tiger Drylac Series 49 Polyester TGIC weather-resistant powder coating (topcoat)
2 color application – white interior and gray exterior
Materials:
Primarily .100-.125 aluminum
Extruded aluminum base
Stainless steel reinforcements
.100 Aluminum tread plate
Amada LC2012 2000W CO2 Laser-Turret Press Combo
Amada ENSIS 3015 AJ, 2000W Fiber Laser with MPL Automated Load/Unload
Amada HG1303 10′ Forming Center
Amada HD1703L NT 10′ Forming Center
Haas VF5-XT Vertical Machining Center
TIG welder
Riveting tools
Rivnut installation tools
Fostoria Powder Booth, 10'W x 20'D x 10'H (Spray Tech)
Fostoria Batch Oven, 10'W x 15'D x 10'H (Spray Tech)
Powder application gun (Spray Tech)
Rail Car Electrical Enclosure

Tiburon Lockers

Vault Logic

Estabrook Assembly Services, Inc.