Custom Steel Doors
Forget those boring, off-the-shelf steel doors! Dawson manufactures some of the most prominent and unforgettable entrances in the world. There's a reason why architects and engineers of high-class hotels, Smithsonian Museums, and the tallest high-rise buildings specify Dawson as their door manufacturer! All steel doors are not created equal.
Does your door demand attention? Does it make a statement? It's the first impression when a visitor enters your building. Because it is the primary access point, you want it to mesh with your facility's overall aesthetic and be reliable and secure.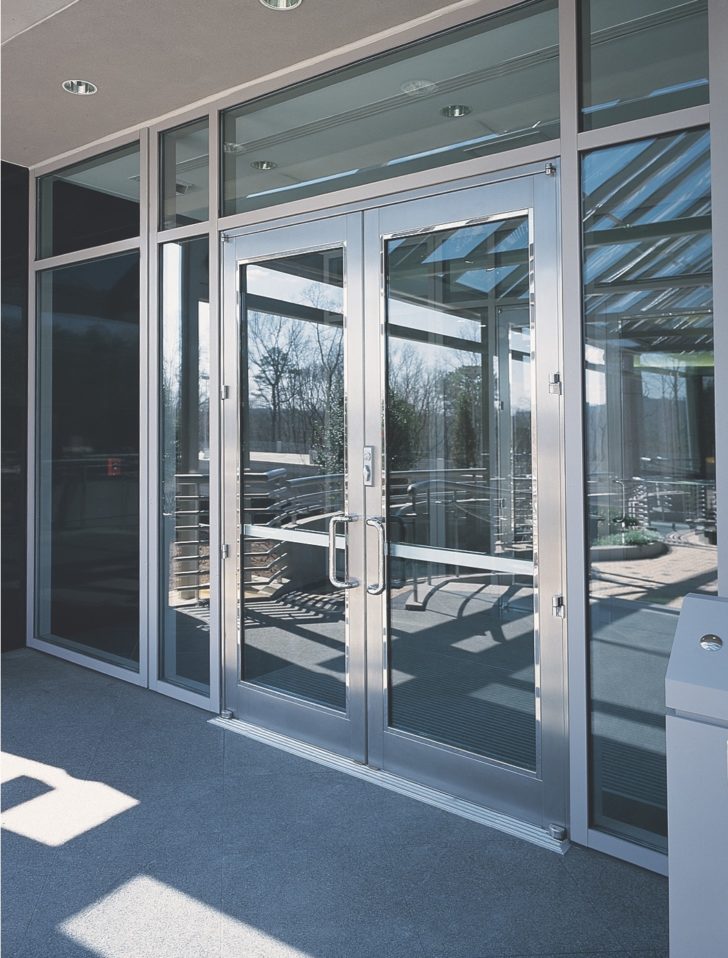 Material
Wood doors have unique aesthetics and are a popular choice by homeowners. They are not so popular in commercial applications because they require added maintenance, are susceptible to warping over time, and do not hold up as well as other materials in high-use areas. They are also the least energy-efficient of all materials.
Fiberglass doors are sturdy and cost-effective but can fade when exposed to prolonged sunlight. They also don't have the appeal that a more solid and secure door has.
Vinyl doors, like fiberglass, offer a budget-friendly option but are not often selected by designers when aesthetics and quality are factors.
Aluminum doors are made out of extruded aluminum and provide many of the same benefits as steel doors, except that the aluminum material is a bit weaker than steel. Therefore, when security is a significant factor, steel doors are often preferred over their aluminum metal counterpart.
Steel doors are often the material of choice for high-traffic, aesthetically pleasing entrances. Because steel is so durable, it holds up to extreme weather conditions and constant use.  Dawson uses a wide variety of metal material including 304 stainless steel, 316 stainless steel, 464 alloy naval brass, 280 alloy muntz metal, galvannealed steel, aluminum, and Corten.
Hardware
A door's hardware includes the handle, lock, and hinges. Due to the versatile design and custom engineering of a Dawson door, all industry-standard hardware can be incorporated into the many door series available.
Scale
There are thousands of generic, off-the-shelf standard-sized entry doors to choose from in the world. You want something different. You want your doors to make a lasting first impression on your visitors. Dawson's architectural entrances demand attention. 
Maintenance
Steel doors have the lowest maintenance needs of any other material door. Touch-up painted surfaces is about the only maintenance that would be performed when needed.
Innovation
Centuries ago, wooden doors replaced the caveman's animal pelts they used to cover openings. With no way to build in fire protection, the first fire-rated steel door was invented in 1904 by Charles Dahlstrom. Over the last century, engineers have perfected elegant designs to make entry doors more beautiful than ever.
Today, steel doors are beautiful, but some also include cutting-edge technologies, such as a thermal break, that significantly improves the door's energy-efficiency. Each year, more and more designers rely on steel doors in their entryways.
Full ADA Compliance
All Dawson doors comply with the strictest building codes and ADA guidelines. It is a priority of ours to remain up to date with the latest compliances to inform your project. Learn more about our accessibility standards.
Benefits of Custom Steel Doors
Aesthetics
Steel doors offer more style versatility than any other material. Choose from various finishes such as anodized, stainless, and painted, to clad and non-clad options. Glass stops, stile,  rail offsets, and different configuration options provide even more aesthetic options. Your entry door is the centerpiece of your building and can beautifully blend in with your overall design or be the facility's most prominent attraction.
Hygienic
Steel is a non-porous material, which means it is difficult for dirt, grime, and bacteria to cling to it. For this reason, stainless steel is commonly used in health and culinary settings. The non-porous surface is easy to keep clean and sanitary, making it more hygienic for your visitors, staff, and occupants.
Energy Efficiency
Some steel doors are more energy-efficient than ever when incorporating the newest thermal break technology. Dawson utilizes a pour and debridge method to separate the interior and exterior surfaces of the door. Without a thermal break, these two surfaces touch, creating a thermal bridge that allows for heat transfer. Heat transfer dramatically contributes to overall heat loss in a building.
Climate Durability
Steel doors provide the most durable and long-lasting on the market. Dawson manufactures its doors using  16 – 11 gauge steel, depending on the needs and application. They are more than 3x thicker than some competitors. Dawson's newest technology, thermal breaks, are added within the door's framing structure that turns a typical custom door into an energy-efficient door.
Custom Fit
Dawson offers custom door sizes to meet your most demanding needs. Typically manufacturing doors up to 4′ wide by 10′ tall, Dawson has even produced doors that were 5′ wide by 21′ tall.
Price
A steel door's cost can vary widely depending on the style, size, configuration, glass, and hardware selected.
Warranty
Depending on what door series selected, Dawson warrantees their steel doors for 10-15 years.
Quality
Steel doors won't chip, crack, warp or rot, ensuring long-lasting quality. Dawson manufactures the best steel entrances.
Security
"Nerves of steel" and "Strong as steel" are two sayings you've most likely heard a time or two. The term "steel" is often used when referencing something's strength because it's one of the world's most robust materials. When considering the security of your building, steel doors are the way to go