Commercial Door Threshold
Door thresholds are necessary for all commercial building entries, providing style, energy efficiency, security benefits, and more!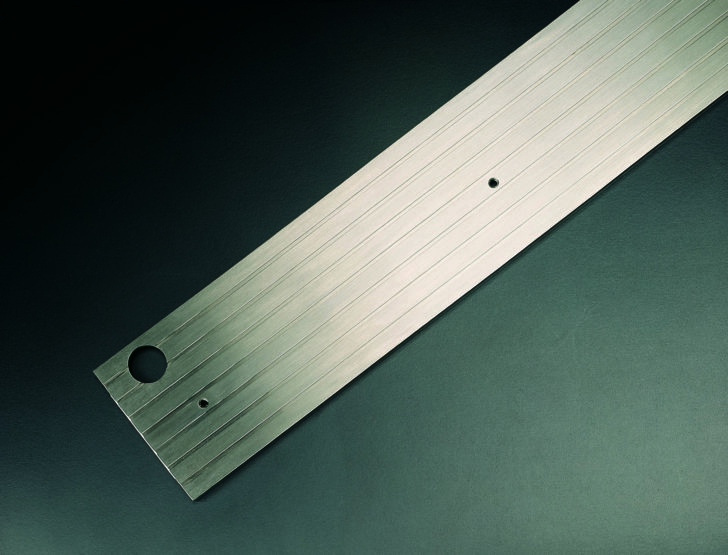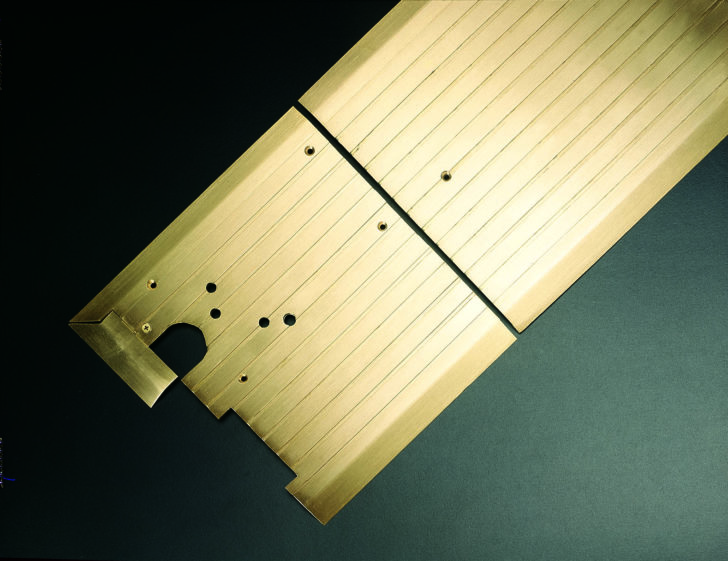 What are door thresholds?
A door threshold is a solid strip of material (usually metal) that sits over the gap in a doorway to create a smooth transition from one room to another. They can be added to any opening but are more of a necessity for exterior doors.
What is the purpose of a door threshold?
The purpose of a threshold is to close the gap between the bottom of a door and the floor, preventing dissimilar floor materials. Thresholds are used with door bottoms and weatherstripping to seal the opening, preventing air, rain, and snow from entering. This ultimately reduces the amount of heat loss in a building and provides a more energy efficient door.
Material Used
Commercial thresholds are most commonly fabricated from extruded aluminum but can also be made from stainless steel, brass, or bronze for a perfect match with your door. 
Custom Thresholds by Dawson
Learn about the types of heat loss in a building
There are four types of heat loss within any building:  radiation, conduction, convection, and air infiltration.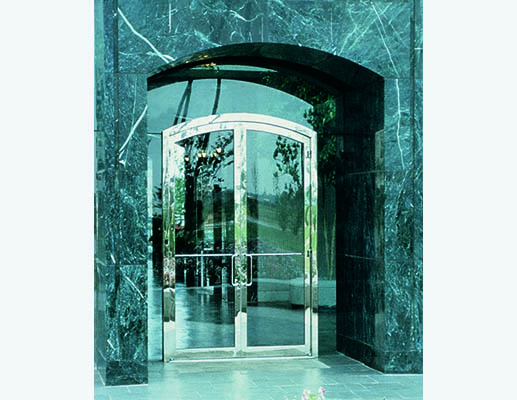 What is the difference between a threshold and a door sill?
The door sill is a component located at the bottom of your exterior door frame and sits directly on the foundation of your floor. The threshold is the component that sits on top of the door sill.
Sizing and ADA Requirements
The metal thickness of the material used in a threshold can vary. Thresholds can be manufactured in any width and up to 120″ long.
There are specific ADA threshold requirements such as door thresholds must be no greater than ¼". Heights up to ¾" are allowed if a slope is applied. If the threshold is higher than ¾", a level-landing is required.
Placement
Position the threshold under the door, so the exterior flooring or ground is hidden when the door is closed. A common mistake is to install the threshold between the nearest points of the jamb. When the door shuts, you will be able to see the floor of the other room. Hence, we want the threshold to run exactly halfway under the door.
Benefits of a door threshold
Helps to seal the opening to prevent air infiltration and heat loss

Drains water to the outside rather than the inside

Prevents dirt and grime from entering your building

Allows the door to open and close more easily

Prevents visible dissimilar floor materials

Aids in leveling uneven flooring

Helps to prevent insects and pests from entering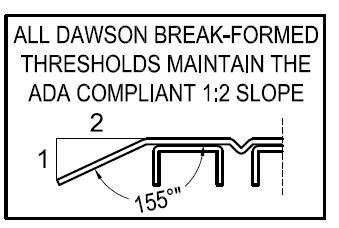 Dawson Custom Door Thresholds
Dawson's standard threshold height is ½" high, with ends sloped to meet the ADA guidelines of 2:1.
Brake-formed thresholds are manufactured to the frame's depth and fit with the door opening unless otherwise specified.  They are made from stainless steel or bronze and come standard with a #4 satin finish with the threshold's grain running lengthwise.
Custom machine plate thresholds are available in aluminum, stainless steel, or bronze with a #4 satin finish. A SlipNOT® or anodized finish is also available with aluminum thresholds.
Dawson can provide returned closed ends for thresholds deeper than the frame to cover open ends. Hardware preparation, return miters, and door jamb notches are also available on all threshold types.
Custom Thresholds by Dawson