Benefits of a Balanced Door
Sometimes referred to as "pivot doors," balanced doors offer various benefits that should be considered when designing your next entrance.  Their high functionality and beautiful aesthetics make it a suitable choice for public, commercial, and monumental facilities.
Ease of Operation
Balanced doors were originally designed to combat high-wind areas and stack pressure from high-rise buildings. Their design used the differential of interior and exterior air pressure to open the door instead of against it. However, Dawson has recognized that not all high-wind conditions are created equal and are not always practical.
Improved Auto Operator
Today, Dawson's balanced doors are built with an improved design incorporating the Record 8100 series auto-operator. This operator eliminates the need for a closer, thus creating a genuinely free swinging door without the added resistance.
The smaller header mechanism allows the drive arm to be connected directly to the door, removing the effects of added pressure from wind gusts.
The operator features an internal clutch/brake system to maintain the door in a fully open or fully closed position. It also has a power assist mode that significantly reduces the overall force needed (<2 pounds) to open the door in manual mode.
Regardless of the door size or weight, the balanced hardware requires minimal effort in opening the door.
Other door manufacturers still use poorly integrated designs that cause issues with the auto-operators from being able to exceed 15 pounds of opening force. By design, balanced doors have 8 pounds of resistance that is always present. However, with added wind gusts, forces can easily exceed 15 pounds, causing the operator to immediately stop its cycle and return to either an open or closed position.
Auto Operator Setup and Installation
Transcend Thermal Series
Learn about Transcend – the most energy-efficient custom commercial doors on the market – only by Dawson!
Less Space
Balanced doors require 1/3 less operational area than conventional doors because of the elliptical motion path they move in. But, even with this reduced space, they're still very capable of accommodating wheelchairs, shopping carts, and large influxes of visitors.
Where spacing is limited, such as in large cities where standard doors would extend beyond property lines, the balanced door is often the choice for owners and designers.
Secured Mechanism
Only Dawson secures its operating mechanism inside the head instead of the floor.  This new design requires no groundbreaking, reducing the time and cost of installation.
This placement also prevents salt, dirt, and grime from getting into the mechanism that can later cause malfunction and erosion.
ADA Approved
Dawson balanced doors are capable of meeting all ADA requirements without the need for power operators.
Blended Aesthetic
Dawson matches the top and bottom pivot arms to the door's material for a minimal appearance.
ENDLESS POSSIBILITIES
Because every Dawson door is custom-designed and comes with an array of options in style, material, finish, and size, you can be sure to achieve a look that's as unique as your business or institute.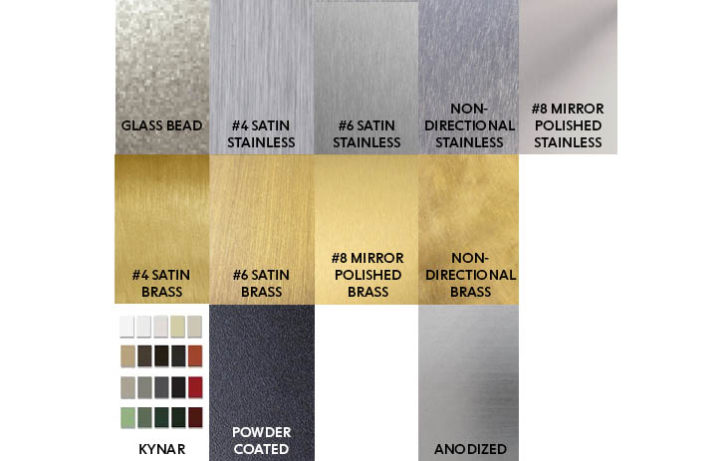 Material & Finish
Stainless Steel
Glass Bead
#4 Satin Stainless
#6 Satin Stainless
#8 Mirror Polished Stainless
Non-Directional Stainless
Brass*
#4 Satin Brass
#6 Stain Brass
#8 Mirror Polished Brass
Non-Directional Brass
Extruded Aluminum
Powder Coated
Wet Painted (Kynar)
Galvannealed Steel
Powder Coated
Wet Painted (Kynar)
*IMPORTANT INFORMATION regarding the bronze alloys #280 Muntz Metal and #464 Naval Brass materials
How does a balanced door differ from a conventional door?
Butt-hung, continuous-hung, and pivot-hung doors require one to pull against the door's entire weight and the wind and stack pressures. Because a balanced door pivots at two-thirds the door's width, the door's weight is balanced at the fulcrum allowing the door to open much easier against positive or negative wind pressures.
How durable is a balanced door?
Dawson uses premium materials such as steel, extruded aluminum, and bronze for its balanced doors.
Balanced doors are designed for the most abusive and high-traffic areas. Unlike conventional doors, where there is a large amount of lateral stress on the door's frame and hinges, balanced doors transfer the weight into the floor.  This results in the door's weight being a non-factor and allows a balanced door to operate for life. 
Standard doors often have a warranty of up to 5 years, where Dawson's balanced doors and hardware offer a 10-year warranty.
Learn more about the Dawson Balanced Door.