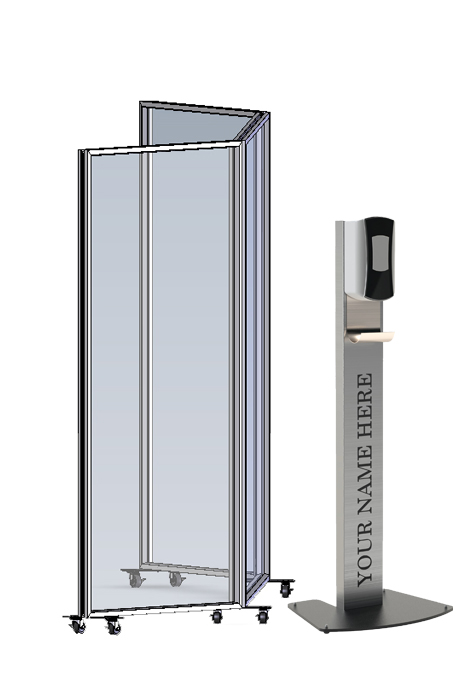 COVID-19 Products
Dawson remains fully engaged with the fight against COVID-19 and we are very pleased to offer high-quality products that not only look great but help support the public agenda.
Hand Sanitizer Stations
Dawson knows a thing or two about quality metal products!  Our heavy-duty and portable automatic hand sanitizer station will help protect your employees and customers while making a statement!  Choose from a standard powder-coated black or a premium station customized with your logo/brand and powder coated with your preferred color. Its weight and attractive design allow for prominent placement and high-volume usage, which invites and encourages hand hygiene.
Key Features:
Refillable Sanitizer – Buy your favorite solution in bulk
Custom Branding – Premium stations offer various branding options
Steel Base – Heavy-duty 8ga steel to increase stability
Security – Base plate holes allow your unit to be tied down
Finishing – Choose between a stainless-steel satin finish or powder coated
Personal Protective Barriers (PPBs)
More than ever we need areas that keep our essential workers and their patients, students, and staff safe and protected!  For this to be possible, space division is critical.  Dawson offers a durable, stand-alone wall system that can easily be moved from one area to another.  The 3-panel, folding design allows for easy placement and versatility.  Because the barriers are made out of Plexiglas® and an aluminum frame, cleaning and sterilization is simple and fast.  Use your divider as a freestanding room partition, temporary wall, personal barrier, and more.  Perfect for school, business, retail, restaurant, and medical settings.
Key Features:
Antimicrobial – Non-porous Plexiglas® and aluminum material
Quality – Aluminum channel framing for a sturdy design
More Information:
Scratch resistant Plexiglas®
Locking end casters to keep unit in place
Use with wet/damp erase and liquid chalk markers
For indoor or outdoor use
Contact [email protected] today to get started with your design!