Design for manufacturability opens doors
Originally in The Fabricator 8/1/2011
In the early 1950s several men carried a load down a sidewalk in Jamestown, N.Y., a town at the southeast end of Chautauqua Lake, in the southwest corner of New York state. They worked at Dawson Metal Co., and for four blocks they hauled a fabricated door, complete with unique architectural accents, to a local customer. The door was the company's first, and it wouldn't be the last.
The Dawson Metal Co. name remains, but most now know the company by its most prominent division, Dawson Doors. The small company that delivered its first door four blocks now has global reach. The exterior doors at the Paris® Las Vegas Hotel come from Dawson. So do some of the doors for Rockefeller Center in New York City. Notice those distinctive entranceways at high-end retailers like Tiffany and Gucci and the Chrysler Building in Manhattan? Those doors are Dawson's too. So are the doors to the U.S. Embassy in Beijing, a unique entranceway installed just in time for the 2008 Olympics.
"We've done entrances in Saudi Arabia, England, Japan, Taiwan, and all across the United States," said David Dawson, president, CEO, and the founder's grandson. "Our little company has a global presence."
The company has gained global reach by working with the stateside operations of global firms. The company's largest customer is Japanese, and Dawson serves its North American operations. Its second-largest customer is Dutch, again working with its U.S. operations in Connecticut. Its third-largest client is French, and Dawson works with its U.S. office in Upstate New York. Unlike that very first job down the street, today Dawson usually doesn't install its doors but instead sells them to the installer (usually called the "glass house"), which subs to the general contractor on-site.
"We get selected, in this little town of Jamestown, to become worldwide suppliers for international companies," Dawson said.
Materials are like colors on the architect's palette, and Dawson Doors fabricates plenty of them: aluminum, brass, bronze, Muntz metal, as well as all types of steel, including stainless. The company's bottom line remained steady throughout the recession, unusual for a company tied to commercial construction. The firm made it through, like many others, by cutting costs and uncovering operational efficiencies.
Dawson employs about 120 people who work in fabrication, finishing (including powder and wet paint), and assembly areas. It has fewer workers than it did three years ago (much of the downsizing happened via attrition), but margins have improved markedly, Dawson said.
That story isn't unusual in metal fabrication. New equipment with quicker setups, automated part programming, and other advances have allowed many shops to produce more with fewer employees. Recently Dawson bought, among other things, a new 4-kW laser and a robotic welding cell. The company also has implemented just-in-time inventory, generally purchasing materials only as needed.
The top line has been sufficient to warrant such investment. We've been able to afford to stay on top of technology, especially as it impacts our ability to keep our current customer base or to attract new customers," Dawson said. "If you stop investing, you're out of business in 10 years."
What's unusual is how the company engineers products. It takes design for manufacturability (DFM) seriously, significantly reducing fabrication costs for most projects. If it hadn't, managers believe—especially considering how the recession hit the construction sector—the company may well have closed its doors for good.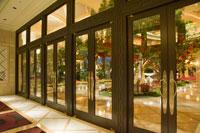 Fewer Parts, Simpler Fabrication
Fifteen years ago a door could have consisted of 20 components, most of them welded together. The welding and finishing often took between 35 and 40 hours. These days a similar door might have only six parts and require almost no welding. Components are assembled via tabs and slots, mechanical fastening, and other joining methods. Now the company may take 15 to 18 hours to fabricate the same door that would have taken twice as long just a decade ago.
Now with dynamic nesting software and newer machines, "we're probably saving more than 40 percent on material," said Rick Carlson, senior vice president of engineering and operations.
"We often can take about 80 percent of the welding out of a project," Dawson added. "When you put a torch on bronze or stainless, you distort the metal, and it takes a long time to get it back to where it's aesthetically pleasing and structurally intact."
Lakeside Beginnings
The impetus for the business occurred just after World War II in the middle of Chautauqua Lake, literally. "The company was started by my grandfather and my father," Dawson said. "My father came home from the war, and my grandfather was the general manager of another sheet metal company. They were out fishing on the lake, and they decided to go out on their own."
The company began as a sheet metal job shop and evolved to become a hybrid. Dawson really is two businesses under one roof. One business produces architectural doors and frames for commercial buildings; the other business produces precision enclosures for various sectors. For instance, Dawson makes most of the enclosures in the market for grocery self-checkout systems.
The two sides of the business "share a lot of the same requirements for successful operations," Dawson said. "They both involve highly engineered products, meaning both sides of our business start with a strong engineering component."
Not Just Minor DFM
At Dawson Doors, DFM isn't just adding a tab here and there to make a certain component easier to fixture at the weld station. It's sometimes about reducing the number of parts significantly—often by more than half—to take major costs out of a project. It remains "design for manufacturability"—and not pure design work—because the company's services do not involve designing a product's entire form and function. Any change engineers suggest is done with manufacturing in mind while remaining true to the designer's original vision.
"The architects on the structural side of the business, and the OEMs and other companies we deal with on the industrial [enclosure] side, look to us for design assist and to engineer their vision for what they want to do," Dawson said.
The company's modern laser, punch press, and brakes give Dawson's engineers some flexibility when attempting to remove costs from a project. For instance, on many parts the turret press uses special tap and countersink tools to thread holes and form the countersink feature, eliminating what used to be separate, secondary operations. A part may have a complex contour and bends, but the laser has no problem cutting such oddly shaped profiles, and the CNC press brakes have little trouble bending complex forms.
Software determines the nest to best utilize material, and available press brake tooling and capacity are determined upfront, meaning as a batch of flat profiles arrives at the press brake, most of the guesswork has been taken out of the equation. Press brake setup time is minimal, so personnel spend more time bending components, less time hunting for and arranging tools.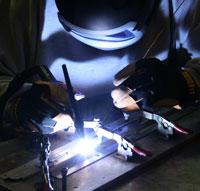 Reducing Project Cost
Managers identify excessive welding as a major cost driver. The process consumes filler metal; requires fixturing; and dramatically heats the subassembly, adding the possibility of distortion. Over time unequal stress on the structure causes door components to become slightly unaligned, resulting in significant maintenance problems. The self-fixturing elements are designed in such a way to ensure loads are equally dispersed.
"We went more with a structurally reinforced door, and, therefore, we reduced the amount of parts required, and we did the same thing on our industrial cabinet side," said Carlson. "Through the modeling, we put in all of the manufacturing elements—your notches, your folds, your hardware cutouts, your preparations. We've fine-tuned it to a point where everything is 3-D modeled." For instance, achieving a weathering condition around the perimeter of a typical custom swing door previously required up to 14 parts; now engineers have cut that part count to five.
Such engineering and design-assist efforts have helped Dawson maintain a presence in a difficult economy, especially in commercial construction, though the company couldn't avoid a slowdown on the architectural side of the business. Still, the enclosure side—a business not tied to one hard-hit sector—lessened the blow. Costs are down, and the company has expanded its product offerings to include aluminum doors. Managers admit the top line hasn't grown in recent years, but the bottom line has improved significantly.
High-end Focus
Assisting with design doesn't come without risks. For instance, what if the company bids on a project by proposing a new design, only to find that the company shopped the design elsewhere for a better price? Sources said such practice is unusual for several reasons. First, many designs exploit the company's modern equipment, and that can't be duplicated easily in other fabrication shops. Second, such customers have found that many shops offering the work for a little less don't deliver quality components on time—and costs for rework and delays add up.
Ultimately it's about building collaborative, long-term partnerships, Dawson said. The metal fabrication market is full of shops that can cut, bend, join, and finish metal, but few can dream up an innovative DFM idea for the high-end door and enclosure markets. He added that working with a company that can shave a few zeros off the project cost is, over the long haul, just good business.
Such collaboration has led to some lasting customer relationships. The company focuses on niche products that aren't commodities. The enclosures have short life cycles—not long after one design is finished, engineers touch base with the customer about the product's next generation.
"By making these improvements during the past five years, improvements we've felt have been a necessity to stay in business, we believe we've increased our capacity by more than 40 percent," Dawson said. "We can handle a lot more work than we're doing right now, and that's more than we've ever handled in the past."
Hybrid Lean
The floor layout at Dawson Metal Co., Jamestown, N.Y., separates door manufacturing from enclosure fabrication. Managers believe such part flow to be unique but necessary considering the company's hybrid business model. Components for both enclosures and doors flow together through primary fabrication processes but then split into separate joining and assembly areas designated for either doors or enclosures.
The enclosure business is a job shop operation, so managers rearrange machines to create a hard cell dedicated to a product line only when a job reaches a certain volume. "But you need a critical mass to make that work," said David Dawson, company president. "So we have a number of cells in the organization based upon repeatability and volume. Only for those [higher-volume] products can we afford to take that floor space out of production for anything else."