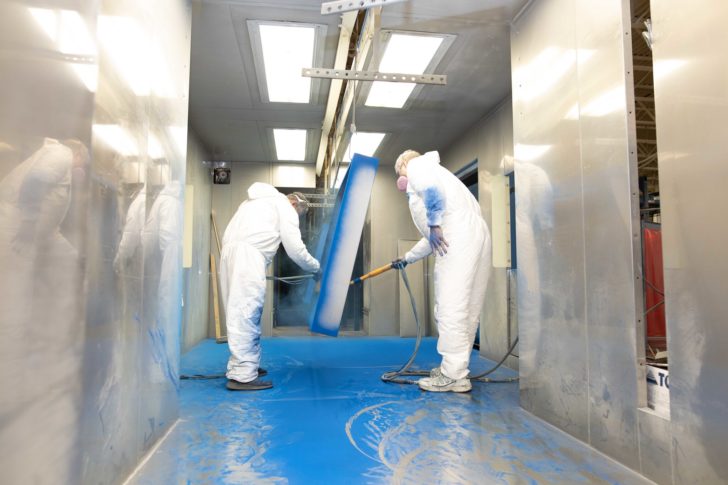 Powder Coating
What is powder coating?
Powder coating is the process of applying a dry powdered form of paint to mostly metal surfaces and then bonded under high heat in order to create a harder and stronger finish than conventional paint.
What are the benefits of powder coating?

Give your industrial metal product a distinctive look
Help protect metal from chipping, scratching, and fading
Paint is less likely to drip, run or sag.
Create a barrier to help prevent the formation of rust
Available in a wide range of colors
More consistent appearance than other coating applications
Help extend the useful life of a finished product – reducing the need for repairs
Large capacity powder coating booth available – 10′ x 10′ x 15′
Why powder coat instead of wet paint?
Powder coating results in a thicker, more even finish.
More durable and longer-lasting
Powder coat is a one-coat finish – providing a quicker process.
Wet paint is ideal for surfaces that cannot be heated or when an extremely thin coat of paint is required.
Do you provide color samples at Spray-Tech?
Yes, we have physical color samples here at our facility in Falconer, NY.   When needing very specific color hues/tones we recommend you stop into our facility to select a color because colors appearing on PC or phone screens can be skewed.
Do you offer color-changing paint?
We offer many different color-shifting options from color shift pearls to temperature activated thermochromic bi-color powders.
Do you provide powder coating services for vehicle rims?
Yes!  Many times, the process will involve stripping the manufacturer's paint completely from the surface using our sandblasting process so that the powder will adhere properly to the rim material.
How long does powder coat last?
Powder coating finishes last 15-20 years depending on pre-treatment and the type of powder used.  Variables such as use, environment, and cleaning chemicals also factor into the overall life span of the paint.
How long does powder coat take to cure?
Depending on the material and thickness, powder coats average 30 minutes at 400°F.  Your parts are completely cured when received.
Are powder coating products toxic?
All of the powders used by Spray-Tech are non-toxic, non-volatile, and completely safe whether being sprayed or stored.  These powders can be safely recycled or disposed of at landfills.
Will powder coating fill in chips/scratches?
Powder coating has the capability to cover minor scratches and imperfections.  As with any finish, the end result will only be as good as the surface it was applied to.  Matte and textured powders are more forgiving for surface preparation than smooth or glossy powders.
Can powder coating be repaired?
Yes!  Powder coats can be repaired with the right process.  Never try touching up a powder coat with regular paint.
What can be powder coated? 
Because powder coating is cured under high heat, any material that can withstand 400°F can be powder coated. Aluminum, bronze, copper, brass, titanium, and steel (including stainless, galvanized, anodized, and e-coat) can all be powder coated.
---
Sandblasting
What is sand blasting?
Sandblasting is a surface finishing process that involves spraying abrasive particles under high pressure against a surface to smooth, roughen, or clean.
What can be sand blasted?
      Glass
      Stone
      Metals
      Wood
      Plastics
      Steel
      Brass
      Aluminum
      Silver
Will sand blasting damage my product?
A surprisingly large number of particles are available for use during sandblasting.  Using the wrong particle or process can cause surface damage.  Spay-Tech technicians are properly trained and experienced with various blasting agents and processes.  Hiring an inexperienced worker or taking on as a DIY project sets you up for safety risks, poor quality work and potential damage to your product.
---
Wet Painting
Why choose a wet paint process?
There's a few great reasons why one would choose a wet paint finish over a powder coat finish.  The first and most common reason is that wet paint can be applied to almost any material without a need for a high-temp curing process.  Another is that wet paint is available in a larger variety of colors.  Also, wet painting results in a much thinner finish than powder coating.
Can you wet paint over a powder coat?
Wet painting over an existing powder coat finish is a possible solution to repairing a surface.  However, it is important that an experienced finisher does the job because careful consideration needs to understand the extent of the damage, which paint to use, and properly preparing the surface.
---
Assembly & Shipping
What kind of silk screening do you offer? 
We offer silkscreen labeling for many different products and surface styles.
What are the benefits of silkscreen labels?
Labels can be applied to uneven or round surfaces with ease.
Labels withstand outside elements, water, humidity, and moisture
Differentiate with labels that pop and stand out